Make Art Possible!
Dear Opera Friends and Fans,
With 12 new productions, 20 revivals and more than 300 events per year, the Opernhaus Zürich is at the head of the Champions League of major opera houses. A repertoire of such gigantic proportions comes with the set and scenery pieces to match – and those pieces need to be stored somewhere. That somewhere is located on the outskirts of Zurich, in Oelikon, in the Kügeliloo warehouse. Every day, our red scenery transport pickup trucks drive there.
Imagine: you're sitting in your favorite seat in the Opernhaus, looking forward to getting lost in a glittering world for the next few hours. Der Rosenkavalier is on the program. The first bars sound, the curtain starts to rise – and you find yourself looking at a blank stage. Krassimira Stoyanova, one of opera's biggest stars, is singing the role of the Feldmarschallin. As she makes her first entrance, her steps echo through the empty expanse.
What happened? Why is the stage empty? Where is the gorgeous set that everyone's been raving about?
Oerlikon, the Kügeliloo warehouse: The set is ready to be transported to the Opernhaus. But the pickup truck that tows the heavy scenery vehicles through the city is under repair. No towing vehicle – no scenery on stage. In order to prevent this from happening, we urgently need to replace a pickup truck.
In the film below, titled "Scenery," and in an interview with our Technical Director Sebastian Bogatu, you can learn more about the highly complex logistics that are required to keep the Opernhaus' diverse program running and why these powerful trucks are part and parcel of making sure the show can go on.
Make art possible! We look forward to your support and to many beautifully decorated performances!
---
In this film you will learn why scenery trucks drive through the city of Zurich every day.
---
Mr. Bogatu, out and about in the city, one can see Opernhaus trailers being pulled by a red pickup truck. What is transported in these trailers?
With our transport vehicles we take the set and scenery pieces from our warehouses to the Opernhaus and bring them back to the warehouses.
Is there no space in the Opernhaus itself to store these decorative parts?
No, there is not. Space is extremely limited in the basement and outside in the loading area in the Falkenstrasse. Storing something here is like playing Tetris. The Opernhaus also has small stage wings and no backstage or under-stage where we could store a complete, assembled set. As a result, it's not possible to push a stage set like Così fan tutte aside after a rehearsal in the morning and then present Don Giovanni in the evening. At some other opera houses this is quite feasible. In Zurich, on the other hand, we have to completely dismantle the Così set and take it to the Falkenstrasse by elevator. So even during a performance we have to rely on external warehouses, which means a lot of journeys with our transport vehicles. Since we have a repertoire system and want to offer the audience as varied a program as possible, we show up to six different productions in one week. A single production generally requires about ten transportation trailers for set and scenery pieces. Which means that we have to move 50 to 60 full transporters every week!
Is the space situation in Zurich comparable with other opera houses?
No. This problem affects the Opernhaus Zürich more than other opera houses. There are opera houses that can store set pieces they are currently using in their houses. The Theater Luzern, for example, reaches its warehouse through an underground corridor. Due to its location in the city, the Opernhaus has no such possibility.
Do the special space and storage conditions also have any impact or influence on the individual set design, or perhaps on their aesthetics?
Not really. At the most, our storage situation might lead us to point out to the stage designer that an extremely large-scale stage concept is too big for us and that, because of our very dense performance schedule, we wouldn't have time to build it up and tear it down. In such a case we look for solutions together with the stage designers to reduce the overall volume of the set. The size limitations for set pieces depend on the one hand on the logistics of the assembly and disassembly, and, on the other hand – and you may find this surprising – on our freight elevator, which brings the decoration from the street to the stage. That is the decisive measure. No single decorative part may be larger than this lift. The warehouse in which the decorations are stored has shelves that correspond exactly to the size of the lift. And our scenery transporters, which you can see driving through the city, correspond to the size of this lift.
Where is the warehouse for the scenery parts located?
Our closest, most modern, and largest warehouse is in Oerlikon and is currently being renovated and expanded. When the refurbishment work is completed next year, we will be able to store around 800 of these scenery containers there on movable racks, stacked on top of one another, up to twelve meters high. It's quite something. During the renovation, we are still storing scenery in three warehouses outside Zurich. Of course, the journeys there take much longer.
What exactly does the transport procedure look like?
It depends. There are weeks in which we play four to five different productions, but there are also weeks in which we only have three productions that might have fewer set pieces: perhaps there is a ballet that only needs an average of eight scenery transporters. In that case, we can store most of the sets for the week in the Opernhaus and in the Falkenstrasse. Then our drivers have to drive less. It's different on the weekends: When we have a double performance on Sunday, our house is often so crowded that the production that played on Saturday evening has to be taken out of the Opernhaus. Then it is driven away on Saturday night or Sunday morning and comes back to the stage on Tuesday.
What happens if there's a traffic jam in town?
Well, we take care not to bring set and scenery pieces to the Opernhaus on the day of their performance! In addition, our transport people know the alternative routes for heavy traffic and, of course, prefer not to drive during rush hour. It gets difficult on the motorway to Winterthur, where one of our storage facilities is located. Our drivers sometimes lose two hours sitting in a traffic jam.
How many vehicles are available for the transports?
In order to be able to keep everything running smoothly, we need four vehicles. One of these vehicles is getting on in years. It is a real possibility that it could fail at any time. We urgently need to replace it.
What criteria do you use to select the vehicle?
The vehicle must have the necessary power to pull the scenery transporters, which weigh up to six tons. Most kilometers are driven in the city, in stop-and-go traffic. The demands on performance are correspondingly high. We have had very good experiences with Dodge vehicles. They are easy to repair and have a long service life. We can order the standard version, with a few additional special fittings to fit our needs. However, the most important criterion is the fact that we do not need a permit for transportation. We can drive Dodges 24 hours a day, seven days a week. The highly complex logistics that our performance schedule requires cannot be carried out without these vehicles. A stage without a set - imagine that!


Conversation conducted by Martina Büchi.
---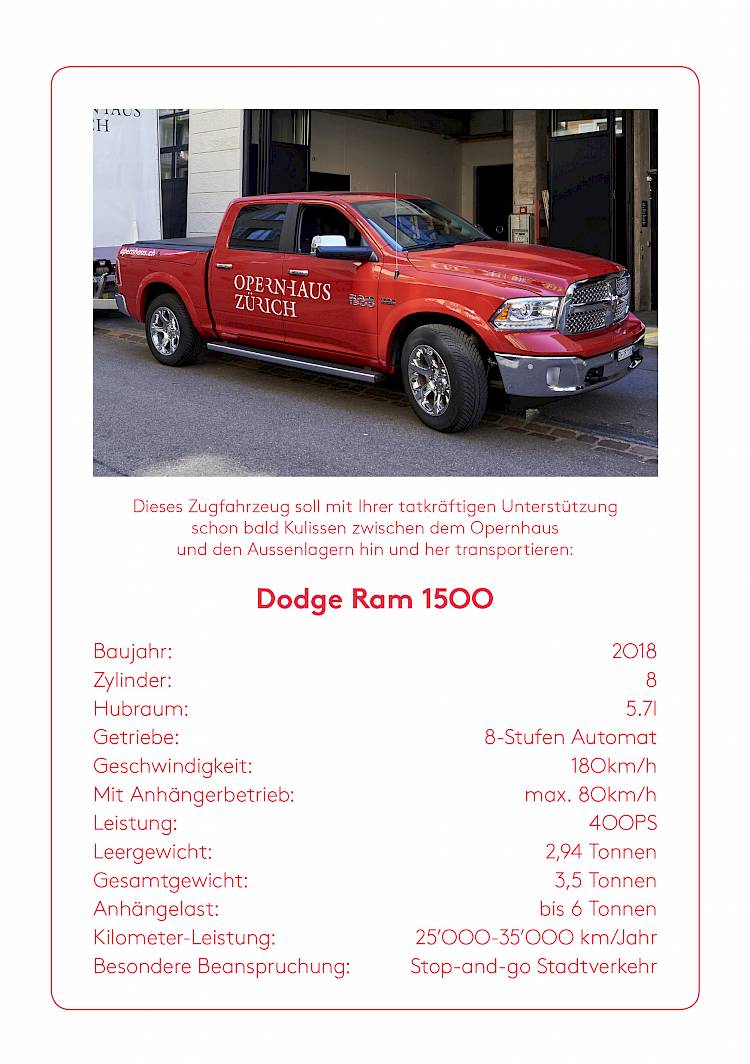 Support us in the purchase of a new pickup truck and help make art possible.
We look forward to your donation!
To thank you for your support, we would like to offer you the following gifts:

For all donations of CHF 1OO or more
- At your request, we will thank you and list your name on our website, as well as on the list of members of the Friends of the Opernhaus Zürich.

For donations from CHF 5OO to 2,OOO
- Technical Director Sebastian Bogatu will guide you through the Kügeliloo warehouse, and show you around the highly complex logistics that make scenery transport happen.

For donations from CHF 2,OOO to 5,OOO
- Celebrity tour guides Andreas Homoki and Sebastian Bogatu will travel with you to the Kügeliloo storage facility on January 16, 2O19, in the evening and regale you with everything you ever wanted to know about set and scenery pieces during the coach trip. Once you arrive at the storage facility, you'll enjoy a brief guided tour of the Kügeliloo storage facility, followed by an aperitif with musical accompaniment in the Opernhaus.

For donations from CHF 5'OOO to 1O'OOO
- Celebrity tour guides Andreas Homoki and Sebastian Bogatu will travel with you to the Kügeliloo storage facility on January 16, 2O19, in the evening and regale you with everything you ever wanted to know about set and scenery pieces during the coach trip. Once you arrive at the storage facility, you'll enjoy a brief guided tour of the Kügeliloo storage facility, followed by an aperitif with musical accompaniment in the Opernhaus.
- You will sit in the audience on March 3, 2O19, during the performance of Richard Strauss' Der Rosenkavalier. During the two intermissions we will accompany you to the stage, where you will take in the quick set changes from behind the curtain. As this is the very last performance of this production, you can take your favorite props home with you as a souvenir.
- If you wish, the passenger seat of a fire-engine red pickup truck – right next to driver Otto Baumer – can be yours for a ride to the Kügeliloo and back. Shipping included!
For your donation via e-banking:
Freunde der Oper Zürich
IBAN: CH74 0900 0000 8005 6755 6
BIC: POFICHBEXXX
If you wish, we would be happy to send you a receipt of payment slip.
Your donation is tax-deductible.
Here you will find our terms and conditions in German (AGBs).
We thank you for the generous support!
Mariko Adachi
Marianne und Peter Angehrn
Martina und Florin Baeriswyl-Holzach
Dr. Gabriele Baltensperger-Rödter
Eva Bechtle
Susanne Bissig-Freihofer
Brigitta Blangey
Dr. Raymond Bloch
Othmar Blumer
Elvira Brandenberger
Sigrid und Othmar Bucher
Andreas Felix Büchi
François Chappuis
Katharina Clormann-Fierz und Jury Clormann
David E. Dreyfuss
Kathrin und Dr. Christof Ebersberg
Peter Erni
Erich Etter
Dr. Ruth und Peter Fiedler
Liselotte Fietz-Russ
Jean Frautschi
Barbara Frère
Annette und Klaus Ganz
Corinne und Christophe Gautier
Charlotte Geel
Renate Goebel
Walter Graf
Dr. Harold Grüninger
Yvonne und Zeno Hegglin-Forrer
Hansruedi Heid
Dr. Hermann Herold
Marie-Louise Hoigné
Ingrid Hug-Oechslin und Egon Hug
Erich Imm
Christiana Kaindl
Dr. Dieter Keller
Michael Kiefer
Rolf Kielholz
Sibylle Klötzer-Vierhub
Corinne Koltes
Eva und Joachim Krebs-Roubicek
René Oskar Kühne
Hans Künzler
Margrit Lanter-Lüthy
Evi Lehner
Gisela Leitner
Ralph Mangei
Gitta Maurer
Melanie und Arnold Meier
Ruedi Meier
Bettina und Thomas Meyer
Annina und George Müller-Bodmer
Stine Ohlendorff
Jacqueline Pfenninger
Marlis Pörtner
Lucy Rangel
Klara Richard
Rita Rotach
Jean-Claude Salzmann
Elisabeth Schaller
Dr. Jürg Schaufelberger
Grazia und Dr. Hans H. Schicht
Irma und Peter Schneiter
Louis Schnider
Metin Somer
Brigit Spinas
Ilse Stammer
Rosemary Steiger
Fabian Stirnemann
Marianna und Federico Valpiani
Annemarie von Schumacher
Madlen und Thomas von Stockar
Walter von Wyl
Dr. Thao Vu und Dr. Samuel Ehrhardt
Dr. Jean-Marc Vuille
Therese und Peter Walser
Prof. Dr. Beatrice Weber-Dürler
Lilli und Urs Wenzel
Ruth Werfel
Brigitte Werro-Roth
Helga Wisskirchen
Monika Wohlhauser
Prof. Dr. Jakob Wüest
Heidi und Dr. Werner Wunderli
Dr. Jürg Wüthrich
Monica Young
Marianne Zimmermann