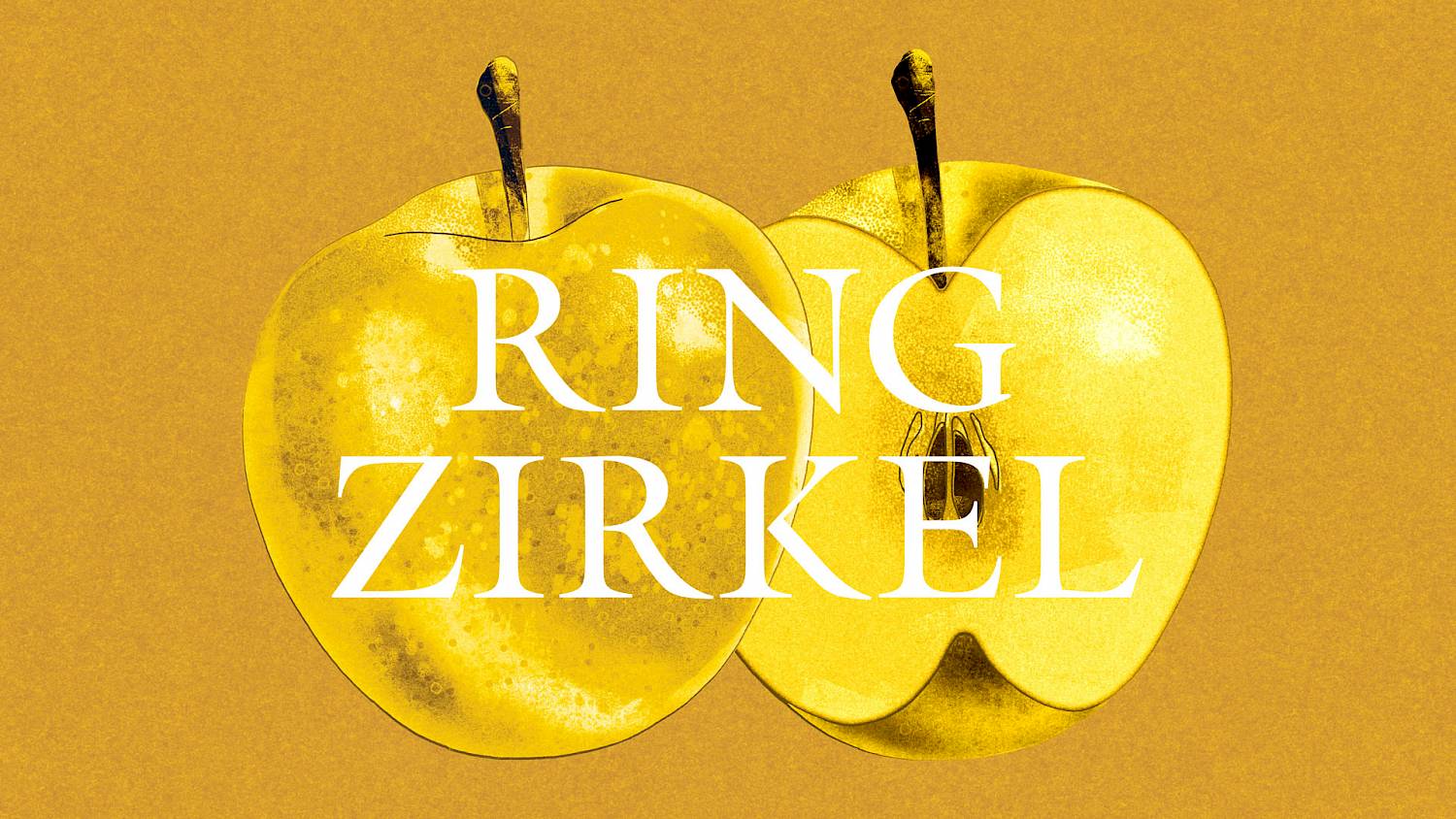 Dear Friends of Zurich Opera,
Zurich is one of the birthplaces of Richard Wagner's Der Ring des Nibelungen. It was there that the German composer first developed the idea of his opera cycle, drafted the story, put pen to paper, and composed large swaths of the score. For these reasons alone, the city has a link to this epic work, which comprises four evenings and 16 hours of music – and it's a work that continues to fascinate opera enthusiasts the world. The four works – each of them exceptionally long, and with vast demands when it comes to vocal casting, orchestra, and logistics – demand a house with tried and tested organizational structures, artistic experience, and long lead times. And that is why the time is right for us to set off on a new Ring adventure in Zurich.
Support us with this, the greatest challenge in all of opera, and become a member of the Ring-Zirkel. You can be right in the middle of the action as Zurich's new Ring is forged. We can't wait to go on this intense journey with you.
With our warmest regards and many thanks,
Andreas Homoki 
Intendant and Stage Director for the new Ring of the Oper Zürich
Dr. Harold Grüninger
President of the Freunde der Oper Zürich
Become a member of the Ring-Zirkel!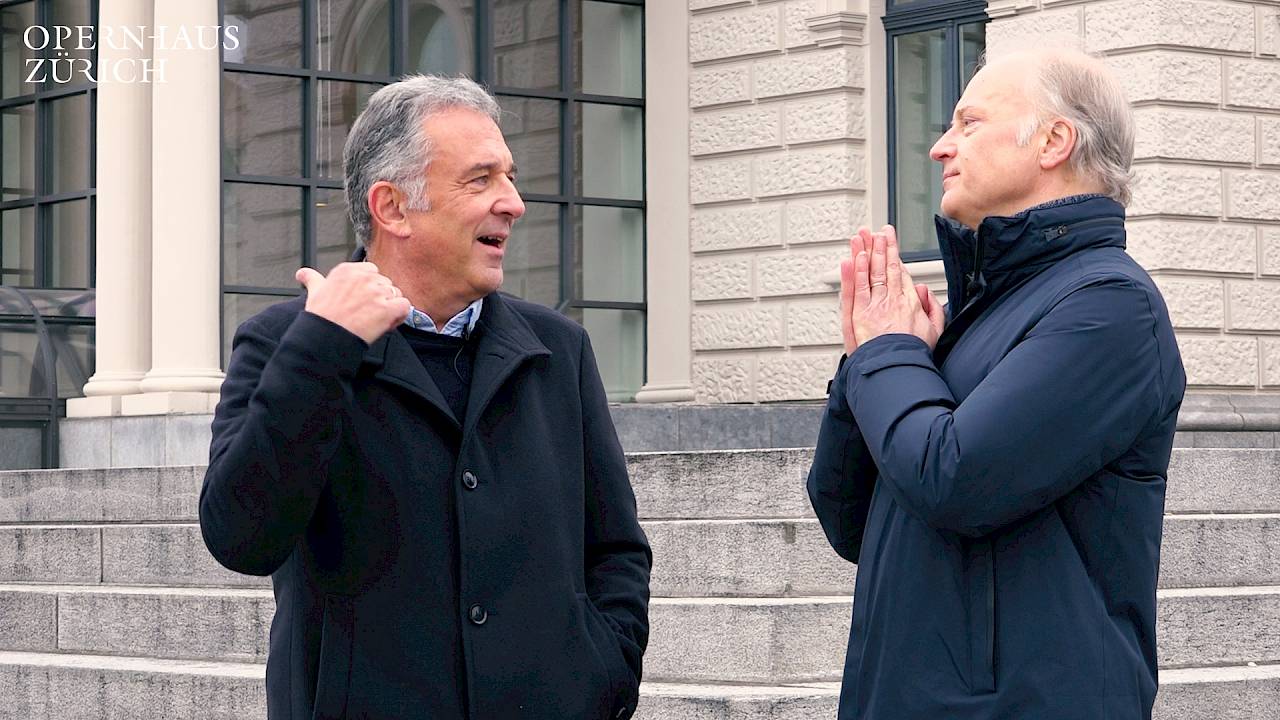 Andreas Homoki and Gianandra Noseda, the director and conductor, respectively, of the new Ring, set off in search of clues.
Richard Wagner in Zurich
Anyone who has spent time studying Richard Wagner's association with Zurich is sure to have first learned of a scandal – his love affair with Mathilde Wesendonck, the wife of his friend and patron Otto Wesendonck. Wesendonck didn't just pay off Wagner's substantial debts, he also provided a place for the composer to live. The idyllically located cottage near the Villa Wesendonck, the site of the Museum Rietberg today, is known as Wagner's «Asyl». But Richard Wagner's connection to Zurich goes much further than just an affair: he lived here for nine years, longer than he spent in any other city. Large portions of his principal work, Der Ring des Nibelungen, were written here in Zurich, and he added immeasurably to the city's cultural life as a conductor, both of his and others' works. His years in Zurich were the busiest and most productive of his life.
When he arrived in Zurich in 1849, Wagner had lost everything. His private life had fallen apart, and his career was in ruins. The one-time Hofkapellmeister had unceremoniously fled Dresden and a warrant was out for arrest for his participation in the May Uprising. For the crime of high treason, he was threatened with a long prison term at least – and the hangman's noose was not out of the question.
Paris was the intended final destination of his escape, but after only eight days there he returned to Zurich. Once there, he initially found lodgings with fellow musician Alexander Müller. Müller had led performances of Wagner's Fliegender Höllander in Zurich in 1847, the first time any of Wagner's pieces had been presented in the Swiss city.
Shortly after his arrival, Wagner read portions of his Siegfried's Tod prose scenario for Müller and other friends. It was the nucleus of what would later become Der Ring des Nibelungen. When his family later joined him (in addition to his wife Minna, their daughter Natalie, and her dog and parrot) other accommodations had to be found. The financial hardship that followed them to their gloomy, cramped, and cold apartment in the Steinwiesstrasse was particularly painful for Wagner. A move to the Lavaterstrasse brought welcome relief: in their new apartment, known as the «Villa Rienzi», Wagner resumed work on his Nibelungen story. Some of his most famous writings about art – not only Kunstwerk der Zukunft (Art-Work of the Future) and Oper und Drama, but also the anti-Semitic Das Judentum in der Musik (Judaism in Music) – were written here.
I feel very much at home in Zurich again, and given the choice of any place in the world, I wouldn't want to live anywhere else but here.

Richard Wagner to Theodor Uhlig in July 1850
The «Ring» in Baur au Lac
In September 1851, Wagner moved with his family to the Zeltweg, where they took up residence in an apartment in Number 11. It was here that he completed the poem/libretto for Ring des Nibelungen in 1853. In the same year, the prose scenario's first public reading took place in the Hotel Baur au Lac: Wagner himself presented all four parts on four consecutive evenings – apparently with such «inspiration, emotion, and dramatic life », that «almost gave the audience the illusion of an actual performance», as the Eidgenössische Zeitung enthusiastically wrote.
Wagner's tendency towards extravagance is legendary; he went into considerable debt in 1853, purchasing exorbitantly expensive new apartment furnishings, convinced that «Wagner fever» would soon break out in Zurich. Writing to his friend Johann Jakob Sulzer to ask for financial help, Wagner pleaded «I cannot dispute the reproach I have incurred because of this décor, other than to appeal to certain processes within myself.» He needed nothing less than luxurious surroundings in order to begin composition of the Ring des Nibelungen. He subsequently moved into his most comfortable domicile to date, a 200 square-meter home in the Zeltweg 13. There he composed Das Rheingold, Die Walküre, and the first act of Siegfried in a veritable creative frenzy. The first public performance of an excerpt from the Ring Cycle took place in 1856, when the first act of Walküre rang out in the Hotel Baur au Lac. Wagner sang the roles of Siegmund and Hunding. Franz Liszt was at the piano.
Zurich still no Wagner city
The prospect that «Wagner fever» would consume Zurich eventually ended in disappointment, but not without an intervening period of hope in May of 1853, when Wagner experienced the greatest triumph of his Zurich period. Thanks to the financially astute industrialist Otto Wesendonck, Wagner was able to organize a concert series featuring excerpts of Rienzi, Der fliegende Holländer, Tannhäuser, and Lohengrin. He arranged for musicians to come in from out of town, as well as a chorus, and penned a 16-page program with explanatory notes. The seed for what would become the Bayreuth Festival was planted with these concerts, and Wagner thought seriously about building a theater to his specifications and presenting the complete Ring there in Zurich. A performance of Tannhäuser held at the Aktientheater in Zurich was a litmus test for the project. But it proved ultimately disheartened: the city showed only middling interest, and with the exception of Otto Wesendonck, Wagner was unable to find patrons. He slowly withdrew from public life.
In April 1857, Wagner and his wife Minna moved into the «Asyl» directly next to the Villa Wesendonck, which offered Wagner the peace and quiet he had longed for, far away from the hustle and bustle of the city. Here Wagner continued work on Siegfried, but interrupted his work in the summer of the same year; he would not resume composition on it until 1864, in Munich. The reason for the interruption was his aforementioned affair with Mathilde Wesendonck – and the composition of Tristan, which was at least partially inspired by the tryst. In August of 1858, the relationship came to light, and Wagner was forced – once again – to flee a city.
Principal Roles
Wotan/Der Wanderer Tomasz Konieczny
Alberich Christopher Purves
Mime Wolfgang Ablinger-Sperrhacke
Fricka Patricia Bardon
Freia Kiandra Howarth
Loge Matthias Klink
Erda Anna Danik
Fafner Oleg Davydov
Fasolt David Soar
Brünnhilde Camilla Nylund
Sieglinde Katie van Kooten
Siegmund Eric Cutler
Hunding Christof Fischesser
Siegfried Klaus Florian Vogt
Hagen David Leigh
Gunther Martin Gantner
Gutrune Lauren Fagan
Waltraute Agnieszka Rehlis
Opening Night Dates
Das Rheingold 30 Apr 2022
Die Walküre 18 Sep 2022
Siegfried 5 Mar 2023
Götterdämmerung 5 Nov 2023
The Complete Ring Cycle Season 23/24
Become a member of the Ring-Zirkel!
You'll get exclusive insights into Richard Wagner's life and works, learn about the developments behind Zurich's new Ring, meet the artists, and be surrounded by conversation with opera fans and Wagnerians. The Ring-Zirkel is limited to a maximum of 40 members. Your membership will help support the Opernhaus Zürich and make an important contribution to this new imagining of Der Ring des Nibelungen. Membership is limited to the term of one of the four Ring evenings, and is contingent on a donation of CHF 5,000, which is tax deductible. We extend our gratitude for your valuable support for this new production of Das Rheingold, and in thanks, we look forward to extending invitations for numerous events – to which you, as a member of the Ring-Zirkel, are additionally invited to bring a guest.
Festive Gala Dinner at the Baur au Lac
Did you know that Richard Wagner first presented his Nibelungen in 1853 at the Baur au Lac? On October 22, 1856, Richard Wagner gave his friend Franz Liszt the most special of birthday presents, when he – at times spoken, at times sung, occasionally whispered, even bellowed – improvised the first act of Die Walküre, fourteen years before its world premiere. Wagner himself sang the roles of Siegmund and Hunding, while Liszt sight-read the score at the piano. Emilie Heim sang Sieglinde. At the Petit Palais at the Baur au Lac, the historic setting for this presentation, you'll join stage director Andreas Homoki and conductor Gianandrea Noseda for a journey through time during this gala dinner. This feast won't just feature exquisite culinary pleasures: you'll also be delighted by prominent musical guests.
In order for your donation to be recognized by the tax authorities as deductible, an additional contribution 100 CHF per person towards expenses must be charged for participation in the dinner.
Design concept presentation with Andreas Homoki
From an idea to a design concept: As a member of the Ring-Zirkel, you'll learn first-hand how this stage director will approach this new Zurich Ring. You'll join him on the Opernhaus rehearsal stage, where he'll discuss his design concept, and you'll get an exclusive look at the set design model and costume sketches. Surrounded by members of the Ring-Zirkel, you'll once again have the opportunity to join in conversation with Homoki. Following the presentation, you'll have the chance to attend a staging rehearsal.
Design concept presentation 10.00am,
Rehearsal from 11.00am to 2.00pm
Searching for clues in der Villa Wesendonck
Richard Wagner lived and worked in the Villa Schönberg from April 1857 to July 1858, a guest of the silk merchant Otto Wesendonck, whose Villa Wesendonck was right next door. Wagner was involved in a romantic affair with Wesendonck's wife Mathilde, who inspired him to write Tristan und Isolde. Mathilde's poetry also formed the basis for Wagner's famous Wesendonck Lieder.
Surrounded by the historical ambience of the Villa Wesendonck, you'll learn about Wagner's time in Zurich, as well as more about Der Ring des Nibelungen, including details about the musical leitmotifs in the cycle.
Introductory matinee with lunch at the Baur au Lac
Two weeks in advance of an opera premiere, the artistic team, conductor, and vocal cast present their thoughts on each work. After attending a public introductory matinee at the Bernhard Theater, you'll join Andreas Homoki and members of the vocal cast of Das Rheingold for an exclusive lunch at the Baur au Lac, where you'll have the opportunity to enjoy individual conversations.
Introductory matinee 11.15am,
Lunch at the Baur au Lac from 12.30pm
Rehearsal visit with Andreas Homoki
You'll peer over Andreas Homoki's shoulder as he's working, and get a look behind the scenes during this stage rehearsal. You'll see how the artistic team and the cast of singers work together as they move through the opera scene by scene. Before you attend the stage rehearsals, director Andreas Homoki will explain what his focus will be during the session.
Rehearsal plan explained by Andreas Homoki 5.00pm,
Stage rehearsal from 6.00pm to 9.00pm
Musical rehearsal with Gianandrea Noseda
While technical and lighting work continues on the stage of the Opernhaus, Gianandrea Noseda will lead the Philharmonia Zürich and the cast of singers in the orchestra rehearsal room on the Kreuzplatz. At your visit to this musical rehearsal, which is known as a Sitzprobe (even in English!), you'll experience this charismatic and vibrant Italian conductor at work like never before.
Welcome 6.30pm,
Orchestra Sitzprobe from 7pm to 10pm
Premiere «Das Rheingold»
On opening night, all your experiences, encounters and conversations come together to form a whole. As a Zirkel member, you have exclusive pre-sale rights to two of the highly sought-after premiere tickets in the best category for the premiere. You will experience the excitement of the premiere firsthand when, after a shared aperitif, you enter the stage and let your gaze wander into the auditorium. As a reminder of your generous support, you will find your name printed in the program book of the evening, and at the premiere party afterwards you will take part in the reserved table for the Ring Zirkel and congratulate all singers personally.
«Tristan und Isolde»
Inspired by his muse Mathilde Wesendonck, Richard Wagner composed his most radical work of music theater in Zurich. He presented the first act of this exceptional work in her honor in a private event at the Villa Wesendonck. Director Claus Guth uses their extramarital passion as the starting point for his psychologically subtle Zurich production. The characters on stage move about in rooms that appear as they might have in the Villa Wesendonck. This revival production, which opens on June 26, 2022, features soprano Camilla Nylund (who we'll later hear as Brünnhilde) making her debut as Isolde. At her side as Tristan will be Swedish tenor Michael Weinius, with General Music Director Gianandrea Noseda musically directing.
Ring-Zirkel members looking to fully indulge in the mystique of Wagner have purchasing rights for the best seats for this exciting revival. And we'll set aside additional seating for you in the Restaurant Bernadette, where you can dine à la carte before the performance and during the intermissions. Following the performance, you'll join Gianandrea Noseda and other artists from the evening's performance in an exclusive Meet & Greet in the Spiegelsaal.
Ring-Zirkel for «Die Walküre»
The illustrious Ring-Zirkel for Das Rheingold is limited to no more than 40 members. As one of them, your place in the Die Walküre Ring-Zirkel is reserved. We'll prepare a special program for that new production – as we will for the premieres of Siegfried and Götterdämmerung – made up of unexpected experiences and personal encounters.
Grand Finale - «Der Ring des Nibelungen»
When the complete Ring has been forged, it will be presented as a full cycle during the 23/24 season. At that time, Wagnerites from Zurich and around the globe will be lined up to get tickets. As a member of the Ring-Zirkel, you'll have purchasing rights for two cycle tickets in the best category.
The programme for the Ring-Zirkel Die Walküre will be published soon. We are very pleased to welcome you as a member!
Katherine Waldvogel, head of the office of the Friends of Zurich Opera, will be happy to answer any questions you may have or to receive your registration at +41 44 268 66 39 or Enable JavaScript to view protected content..
«Achieved the eternal work!»

Wotan